Celebrate Eid al-Adha with 971 Catering: Unforgettable Feasts for a Special Occasion
Eid al-Adha Introduction
Eid al-Adha, also known as the Festival of Sacrifice, is a joyous and significant celebration observed by Muslims worldwide. At 971 Catering, we understand the importance of this auspicious occasion and are here to offer our exceptional catering services for your Eid al-Adha events. With our expertise and dedication, we ensure that your festivities are filled with delectable flavors and cherished memories. Discover the essence of Eid al-Adha and how Muslims celebrate this meaningful festival, while exploring why 971 Catering is your ideal partner for creating remarkable feasts.


A Celebration of Sacrifice :
1. The Significance of Eid al-Adha: A Celebration of Sacrifice Eid al-Adha holds deep religious and cultural significance for Muslims. It commemorates the willingness of Prophet Ibrahim (Abraham) to sacrifice his son, as an act of obedience to God. The festival symbolizes devotion, faith, and selflessness, highlighting the importance of sacrifice and gratitude. As Muslims gather to observe this solemn yet festive occasion, the spirit of generosity and sharing prevails.
2. The Joyous Celebrations of Eid al-Adha Eid al-Adha is a time of immense joy and celebration, as families and friends come together to rejoice in their faith. Here's a glimpse into the vibrant festivities that mark this auspicious occasion:
2.1. Preparations and Traditions Months in advance, preparations begin for Eid al-Adha.
Homes are adorned, special garments are donned, and delectable feasts are planned. Muslims cleanse themselves through ritual ablution, adorn themselves with new clothes, and visit the mosque for communal prayers. Giving and receiving gifts is a cherished tradition during this time, as a way of expressing love and gratitude.
2.2. The Ritual of Sacrifice One of the key rituals of Eid al-Adha
involves the sacrifice of an animal, symbolizing Prophet Ibrahim's act of devotion. The meat from the sacrifice is divided into three parts: one for the family, one for relatives and friends, and one for those in need. This act of sharing reflects the values of compassion, unity, and caring for others that lie at the heart of Eid al-Adha.
2.3. Feast and Festivities After prayers and the ritual sacrifice, families gather to indulge in sumptuous feasts. Mouthwatering dishes, prepared with love and care, fill the tables. From aromatic biryanis and succulent kebabs to delightful desserts like baklava and kunafa, the feast is a culinary extravaganza that delights the taste buds and nourishes the soul. It's a time to savor flavors, create memories, and strengthen bonds with loved ones.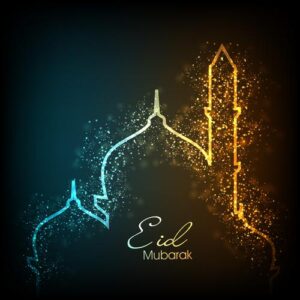 3. Trust 971 Catering for Unforgettable Eid al-Adha Celebrations At 971 Catering, we take pride in ensuring that your Eid al-Adha events are truly remarkable. By choosing our catering services, you can elevate your festivities to new heights and enjoy a stress-free celebration. Here's why we are the perfect choice for all your Eid al-Adha catering needs:
3.1. Expertise and Culinary Excellence
Our team of skilled chefs excels in crafting exquisite menus that combine traditional flavors with innovative culinary techniques. We curate a diverse range of dishes, tailored to your preferences and dietary requirements. From succulent grilled meats to delightful vegetarian options, our menu will leave your guests craving for more.
3.2. Personalized Service and Attention
to Detail We understand that every Eid al-Adha event is unique, and we strive to make it a reflection
of your vision and style. Our dedicated event planners work closely with you to understand your specific requirements, ensuring that every detail is meticulously executed. From selecting the perfect menu to arranging elegant decor, we take care of everything, allowing you to focus on creating cherished moments with your loved ones.
3.3. Uncompromising Quality and Fresh Ingredients
At 971 Catering, we believe in delivering nothing but the best. We source the finest, freshest ingredients to create flavors that tantalize the taste buds and leave a lasting impression. Our commitment to quality extends to every aspect of our service, from food preparation to presentation, ensuring an exceptional culinary experience for your guests.
3.4. Customized Menus
to Suit Your Taste We understand that each client has unique preferences and dietary requirements. Our versatile menu options can be customized to cater to a variety of tastes, whether you prefer traditional dishes or innovative fusion cuisine. Our team is well-versed in accommodating special requests, ensuring that every guest is delighted with their dining experience.
3.5. Seamless Execution and Timely Service With 971 Catering, you can expect seamless execution and punctual service. Our experienced staff is dedicated to providing a smooth and efficient catering experience, from setup to cleanup. We strive to exceed your expectations, ensuring that your Eid al-Adha event flows flawlessly, leaving you free to immerse yourself in the festivities.
4. Book 971 Catering for Your Eid al-Adha Event Today! Make your Eid al-Adha celebration truly memorable by entrusting your catering needs to 971 Catering. Whether you are hosting an intimate gathering or a grand feast, we have the expertise, creativity, and passion to bring your vision to life. Book our services now to enjoy:
4.1. Exquisite and flavorful menus that cater to diverse tastes and preferences. 4.2. Impeccable service and attention to detail, leaving you stress-free and able to enjoy the festivities. 4.3. Customized options to accommodate dietary restrictions and personal preferences. 4.4. Professional event planning and execution, ensuring a seamless experience. 4.5. Unforgettable flavors and culinary delights that will be the highlight of your Eid al-Adha celebration.
Don't miss the opportunity to create a truly memorable Eid al-Adha experience for yourself and your guests. Contact 971 Catering today to discuss your event requirements and secure our exceptional catering services. Let us be part of your joyous celebrations and make this Eid al-Adha a feast to remember!