What is Finger Food ?
When it comes to planning a corporate event, there are numerous details to consider. From selecting a venue to organizing the agenda, every aspect plays a significant role in ensuring the success of the gathering. One particular element that adds a touch of elegance and versatility to any event is finger food. In this article, we will explore what finger food is, how it is served, and why hiring a professional catering company like 971catering.ae best catering in Dubai is crucial for a seamless and memorable corporate event experience.

bite-sized portions
What is Finger Food? Finger food, as the name suggests, refers to small, bite-sized portions of delectable dishes that can be consumed without the need for utensils. These culinary delights are designed to be eaten with one's fingers, offering convenience and ease of consumption, making them an ideal choice for various events, including corporate gatherings.
The Art of Finger Food:
Finger food has evolved over the years into an art form, with caterers and chefs creating innovative and visually appealing dishes. These bite-sized delicacies are meticulously crafted to incorporate a harmonious balance of flavors, textures, and presentation. From crispy spring rolls to miniature sliders, finger food can be customized to cater to diverse culinary preferences and dietary requirements.
Versatility of Finger Food:
One of the key advantages of finger food is its versatility. Whether it's a networking cocktail reception, a formal sit-down meal, or a casual corporate luncheon, finger food can adapt to any event setting. The wide range of options available ensures that there is something for everyone, regardless of personal tastes or dietary restrictions.
The Importance of Hiring a Professional Catering Company:
When it comes to organizing a corporate event, the success lies in the details. Hiring a professional catering company like 971catering.ae can make all the difference in delivering a seamless and memorable experience. Here's why:

Expertise and Experience:
A reputable catering company brings with it a wealth of expertise and experience in catering for corporate events. From menu planning and food preparation to presentation and service, their skilled professionals ensure that every aspect of the event's catering is flawlessly executed.
Tailored Menus:
Professional caterers work closely with their clients to create tailored menus that align with the event's theme, objectives, and dietary requirements. They have the knowledge and creativity to curate a diverse selection of finger foods that will impress and satisfy even the most discerning palates.
Impeccable Presentation:
The presentation of finger food is a crucial element in creating an inviting and appetizing atmosphere. A catering company specializes in the art of food presentation, using elegant platters, creative garnishes, and eye-catching displays to enhance the overall visual appeal of the event.
Efficient Service:
During a corporate event, it is essential to ensure that the catering service runs smoothly and efficiently. Professional caterers have the necessary staff and resources to handle the logistics, ensuring that the food is served promptly and that guests' needs are met with exceptional service.
Time and Stress Savings:
Planning and organizing a corporate event can be a daunting task, requiring meticulous attention to detail. By entrusting the catering responsibilities to a professional company, event organizers can save valuable time and reduce stress. The catering team takes care of all the culinary aspects, allowing the organizers to focus on other essential event components.
Touch of elegance
Finger food adds a touch of elegance, versatility, and convenience to corporate events. Its small, bite-sized portions offer a wide variety of flavors and textures, making it a popular choice among event attendees. Hiring a professional catering company such as 971catering.ae is essential to ensure the success of a corporate event. Their expertise, tailored menus, impeccable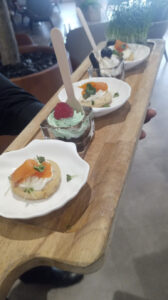 presentation, efficient service, and time-saving capabilities make them invaluable partners in creating a seamless and memorable event experience.
At 971catering.ae, we specialize in providing top-notch catering services for corporate events. With years of experience in the industry, we understand the unique requirements and expectations of our clients. Our team of skilled chefs and dedicated staff work diligently to craft exquisite finger food menus that reflect the theme and objectives of your event.
We offer a wide range of finger food options, from classic favorites to innovative culinary creations. Our menu includes an array of vegetarian, vegan, gluten-free, and allergy-friendly choices, ensuring that all your guests' dietary preferences are accommodated. Whether you prefer elegant canapés, gourmet sliders, or flavorful skewers, we have the expertise to create a menu that will leave a lasting impression.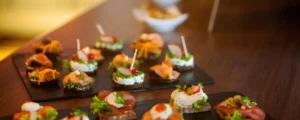 Presentation is of utmost importance to us. Our team takes great care in meticulously arranging the finger food on elegant platters, garnishing them with precision, and creating visually stunning displays. We understand that the first bite is not only with the taste buds but also with the eyes. Our attention to detail ensures that each dish is a work of art, appealing to both the senses and aesthetics.
We pride ourselves on providing efficient and professional service. Our experienced wait staff is trained to deliver impeccable hospitality, ensuring that your guests are attended to with grace and courtesy. We understand the importance of timing during corporate events and strive to serve the finger food promptly, allowing your guests to enjoy the culinary delights without any interruptions.
By entrusting your catering needs to 971catering.ae, you can save valuable time and alleviate the stress associated with organizing a corporate event. Our dedicated team takes care of all the culinary aspects, allowing you to focus on other crucial elements of the event. We work closely with you to understand your vision, requirements, and budget, ensuring that every aspect of the catering aligns seamlessly with your event objectives.
In conclusion, finger food adds a touch of elegance, convenience, and versatility to corporate events. Hiring a professional catering company like 971catering.ae ensures that your guests are treated to a culinary experience that exceeds their expectations. Our expertise, tailored menus, impeccable presentation, efficient service, and time-saving capabilities make us the perfect partner for your next corporate event. Contact us today to discuss your catering needs and let us create an unforgettable experience for you and your guests.
Remember, when it comes to catering, let 971catering.ae handle every bite, so you can focus on making your corporate event a resounding success