Daily Staff Meals
Daily Staff Meals  : Are you in need of a reliable catering service that can provide appetizing and healthy meals for your staff on a daily basis? Look no further than 971catering.ae! Our company specializes in staff daily meals contracts, offering a wide range of delectable options to keep your team well-fed and satisfied throughout the day.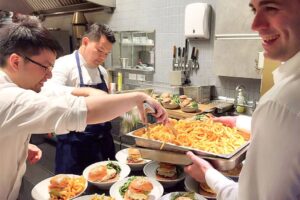 Nutritious meals
At 971catering.ae, we understand the importance of providing nutritious meals that cater to the diverse tastes and dietary requirements of your employees. Our team of experienced chefs and nutritionists work together to create menus that are not only delicious but also well-balanced, ensuring your staff receives the nourishment they need to stay energized and focused.
Why Choose 971catering.ae for Your Staff Daily Meals Contract?
Quality and Variety: We take pride in the quality of ingredients we use and the culinary expertise of our chefs. With a wide array of cuisines and menu options available, we can cater to different palates and preferences, guaranteeing that every meal is a delightful experience.
Customized Menus: We understand that every workplace is unique, and so are the dietary requirements of your employees. Our team is more than happy to work closely with you to create customized menus that align with your staff's preferences and any dietary restrictions they may have, such as vegetarian, vegan, gluten-free, or allergies.
Timely Delivery: We know that punctuality is crucial when it comes to providing staff daily meals. With our efficient delivery system, you can rely on us to deliver the meals promptly, ensuring that your employees receive their food on time, every time.
Healthy and Nutritious Options: Maintaining a healthy lifestyle is essential, especially in a busy work environment. We prioritize the use of fresh, locally sourced ingredients and focus on creating well-balanced meals that provide the necessary nutrients to support your staff's well-being.
Cost-Effective Solutions: We understand the importance of budgeting in any business. Our staff daily meals contracts are designed to offer cost-effective solutions without compromising on quality. You can enjoy high-quality meals without straining your budget.

Frequently Asked Questions (FAQ):
Q1: Can you accommodate specific dietary requirements?
Absolutely! We understand that some employees may have dietary restrictions or preferences. Our team is experienced in catering to various dietary needs, including vegetarian, vegan, gluten-free, and allergies. Simply inform us of any specific requirements, and we will ensure that the meals are prepared accordingly.
Q2: How do you ensure the freshness of the meals?
At 971catering.ae, freshness is of utmost importance to us. We source our ingredients from trusted suppliers who provide fresh and high-quality produce. Our chefs meticulously prepare the meals, ensuring that they retain their nutritional value and flavor. Additionally, our efficient delivery system ensures that the meals reach your workplace in a timely manner, maintaining their freshness.
Q3: Can we request changes to the menu?
Of course! We believe in providing a personalized experience to our clients. If you have specific preferences or would like to make changes to the menu, we are more than happy to accommodate your requests. Our team will work closely with you to create a customized menu that suits your staff's needs and preferences.
Q4: What if we have a fluctuating number of staff members?
We understand that the number of employees may vary over time. Whether you have a fixed team or experience fluctuations, we can adjust our services accordingly. We offer flexible contracts that can accommodate changes in the number of meals required. Simply inform us of any adjustments, and we will ensure that your staff's meals are provided accordingly.
Contact us today at 971catering.ae and let us take care of your staff's daily meals. Experience the difference that our catering services can make in boosting employee satisfaction, productivity, and well-being. Trust 971catering.ae to provide a seamless and enjoyable dining experience for your team, ensuring that they are fueled and ready to tackle the day ahead.