Yacht Events in Dubai :
Yacht Events in Dubai : Planning a yacht event in Dubai? Look no further! At 971 Catering, we specialize in creating unforgettable
CONTACT US TODAY via WHATSAPP : +971 50 467 1758
yacht events that combine luxury, style, and exceptional service.
With our expertise in catering and event management, we ensure that every detail is meticulously
planned to make your yacht event a resounding success. Whether you're hosting a corporate gathering, a private celebration, or a special occasion, our team is here to turn your vision into reality.
Get ready to set sail on a remarkable journey of exquisite cuisine, breathtaking views, and unforgettable memories.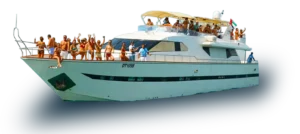 Yacht Events in Dubai : spectacular setting
Unveiling Dubai's Yacht Event Scene: Dubai, known as the playground for the rich and famous,
offers a spectacular setting for yacht events. Its azure waters, stunning coastline, and iconic landmarks make it an ideal destination for hosting exclusive gatherings. From intimate gatherings to lavish parties,
Dubai's yacht event scene caters to a wide range of occasions. Imagine cruising along the Arabian Gulf,
savoring delectable dishes, and basking in the warm sun as you celebrate life's special moments.
With 971 Catering, you can elevate your yacht event experience to new heights of opulence and sophistication.
Event Services
Unparalleled Yacht Event Services: At 971 Catering, we pride ourselves on
delivering exceptional services tailored to your specific needs. From the moment you step aboard,
our dedicated team ensures that every aspect of your yacht event is handled with precision and care. Our experienced event planners work closely with you to understand your requirements, helping you create a personalized itinerary,
select exquisite menus, and curate enchanting décor. We take care of every detail, allowing you to relax and enjoy the company of your guests while we orchestrate a flawless event.
Exquisite Cuisine and Refreshments: One of the highlights of any yacht event is the culinary experience.
Talented chefs
Our talented chefs at 971 Catering specialize in creating gastronomic delights that will tantalize your taste buds.
We offer a diverse range of menus, from international cuisines to local favorites, prepared using the finest ingredients. Whether you prefer a lavish buffet, a gourmet sit-down dinner, or a delectable selection of canapés,
our culinary team will craft a menu that reflects your taste and style. We also offer an extensive beverage selection,
including premium wines, signature cocktails, and refreshing mocktails to complement your dining experience.
Captivating Entertainment and Activities: To enhance your yacht event, we provide a wide array of
entertainment options and activities. From live music performances to professional DJs,
Electric atmosphere onboard
we can set the mood and create an electric atmosphere onboard. Whether you're looking for a lively dance floor or a serene ambiance, our team will ensure that the entertainment matches your preferences. Additionally,
we can arrange exciting water sports activities, such as jet skiing, paddleboarding, and snorkeling,
to add a touch of adventure to your yacht event. There's never a dull moment when you choose 971 Catering for your Dubai yacht experience.
Impeccable Service and Attention to Detail: At 971 Catering, we believe that exceptional service
is the cornerstone of a successful yacht event. Our dedicated staff is trained to deliver impeccable service, ensuring that your every need is met with professionalism and efficiency. From greeting your guests to attending to their requests,
our team will go above and beyond to ensure a seamless and memorable experience. We take pride
in our attention to detail, ensuring that every element, from table settings to personalized decorations, is executed flawlessly, leaving you and your guests amazed and delighted.
Yacht Events in Dubai: Frequently Asked Questions (FAQ):
Q: Can you accommodate dietary restrictions or special requests?

A: Absolutely! We understand the importance of catering to different dietary needs and preferences. Our chefs are skilledin crafting customized menus to accommodate various dietary restrictions, including vegetarian, vegan, gluten-free, and more. Simply inform our event planners about any special requests, and we will ensure that every guest's culinary needs are met.

Q: Can you assist with yacht selection for our event?

A: While we specialize in catering and event management, we have established partnerships with reputable yacht rental companies in Dubai. We can recommend trusted yacht providers based on your event requirements, ensuring that you have access to a wide range of stunning vessels to choose from.

Q: What makes 971 Catering stand out from other yacht event service providers?

A: At 971 Catering, we pride ourselves on our commitment to excellence and attention to detail. Our experienced team has a deep understanding of the unique requirements of yacht events in Dubai, allowing us to deliver exceptional service and create unforgettable experiences. From our delectable cuisine to our personalized approach, we go above and beyond to ensure that your yacht event surpasses your expectations.