Wedding Catering: Elevating Your Special Day with 971Catering
Wedding Catering Crafting Unforgettable Moments through Exquisite Wedding Catering
Your wedding day is a cherished milestone, an occasion where dreams are woven into reality. At 971Catering, we understand the pivotal role that food plays in creating lasting memories. We pride ourselves on being more than just a catering company – we are your partners in curating a culinary experience that reflects your unique love story.

Beyond Nourishment: The Significance of Culinary Excellence in Weddings
Weddings are a celebration of love, unity, and joy. However, they are also an embodiment of your personal style and preferences. As the leading wedding catering service in Dubai, we recognize that every couple's journey is distinctive. Our dedicated team merges gastronomic innovation with the richness of tradition, ensuring that your wedding feast is a symphony of flavors that resonates with your guests' hearts.

Our Approach to Wedding Catering
At 971Catering, we believe that wedding catering is an art, where creativity meets craftsmanship. Our process is meticulously designed to transform your culinary vision into reality:
Wedding Catering Customization: Your Palate, Your Choices
From the moment you step into our world, your preferences take center stage. Our seasoned chefs collaborate with you to curate a menu that encapsulates your tastes, cultural influences, and dietary requirements.
Wedding Catering Presentation: A Feast for the Eyes
The presentation of your wedding banquet is a canvas waiting to be painted with elegance and allure. Our team of experts meticulously arranges each dish, creating an aesthetic that complements your overall wedding theme.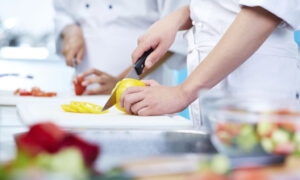 Wedding Catering Quality Ingredients: Elevating Every Bite
At 971Catering, we are ardent advocates of quality. We source the freshest, locally-sourced ingredients to craft dishes that burst with flavor, ensuring an unparalleled dining experience for you and your guests.
Wedding Catering Frequently Asked Questions
1. What cuisines do you specialize in for wedding catering?
We take pride in offering a diverse range of cuisines, from traditional Arabic delights to international favorites, ensuring that every palate is satisfied.
2. Can you accommodate specific dietary restrictions and allergies?
Absolutely. Our chefs are adept at creating dishes that cater to various dietary requirements, ensuring every guest can savor the celebration.
3. How do you ensure food quality and safety?
We adhere to stringent quality and safety standards, from sourcing ingredients to maintaining impeccable hygiene practices in our kitchens and during service.
4. Can you assist in menu planning?
Certainly. Our culinary experts guide you through the menu planning process, suggesting dishes that align with your preferences and theme.
5. What sets 971Catering apart from other wedding caterers?
Our commitment to personalized service, culinary innovation, and attention to detail sets us apart. We understand that your wedding day is unique, and our offerings reflect that understanding.
6. How early should we book your services?
To ensure availability and meticulous planning, we recommend booking our services at least six to eight months before your wedding date.
7. Can you provide both food and beverage services?
Certainly. Our comprehensive services encompass not only delectable food but also a curated selection of beverages to complement the menu.
8. Do you offer tasting sessions before finalizing the menu?
Yes, we provide tasting sessions to give you a firsthand experience of the culinary journey your guests will embark on.
9. Can you accommodate last-minute changes?
We understand that wedding plans can evolve. While we strive to accommodate changes, early communication allows us to deliver the best experience.
10. How do you ensure a smooth service flow during the wedding?
Our experienced service team works in harmony with your wedding timeline, ensuring seamless coordination for a flawless dining experience.
Elevating Every Bite: Our Commitment to Excellence
At 971Catering, wedding catering transcends mere sustenance; it's a vehicle to infuse your celebration with magic. Our dedication to delivering culinary perfection, paired with our unwavering passion for hospitality, culminates in an experience that resonates long after the festivities conclude.
 Embrace the Extraordinary: Choose 971Catering for Your Dream Wedding
Your wedding day is a chapter you'll recount for generations. With 971Catering by your side, it's a chapter written in flavors, aromas, and the joy of shared meals. Let us weave our culinary prowess into your love story, elevating your wedding to a symphony of taste that echoes in the hearts of all who attend. Embrace the extraordinary – choose 971Catering for a wedding that's more than an event; it's an exquisite experience. Also check our Vip catering services menu
1. Can you accommodate themed weddings with specialized menus?
Absolutely! We love bringing your creative visions to life. Our culinary experts can design bespoke menus that align seamlessly with your chosen theme, ensuring a cohesive and delightful experience for your guests.
2. How do you handle guest count changes after the menu is finalized?
We understand that guest counts can fluctuate. We appreciate your timely communication about any changes so we can adjust the preparations accordingly and ensure a seamless dining experience for all attendees.
3. Can you provide a bar service alongside the catering?
Certainly. Our comprehensive services extend to a well-crafted bar experience, offering an array of beverages to complement the culinary journey and elevate the festivities.
4. What is the role of a dedicated coordinator in the catering process?
Our dedicated coordinator acts as your point of contact, guiding you through the entire catering journey – from initial planning to the big day. They ensure that every detail aligns with your vision and that the execution is flawless.
5. How can we ensure a balanced menu that caters to diverse tastes?
Our experienced chefs meticulously craft menus that incorporate a variety of dishes to cater to diverse tastes. Through consultations and tastings, we ensure that your menu resonates with every guest.
6. Can you accommodate cultural and religious food preferences?
Absolutely. We respect and honor cultural and religious preferences, creating a harmonious fusion of flavors that uphold your traditions and delight your guests.
7. Do you provide options for dessert tables or wedding cakes?
Yes, we offer an array of dessert options, including customized dessert tables and stunning wedding cakes that can be tailored to your theme and preferences.
8. How can you help in enhancing the overall wedding atmosphere?
Beyond exquisite food, we can assist in creating a multisensory experience. From elegant table settings to ambient lighting, we collaborate to ensure that the culinary journey is harmoniously woven into the broader wedding ambiance.
9. Can you accommodate outdoor wedding venues without proper kitchen facilities?
Absolutely. Our skilled team is adept at working in various environments, including outdoor venues. We bring along our specialized equipment to ensure that the quality of food remains uncompromised.
10. How can we incorporate eco-friendly practices into our wedding catering?
We are committed to sustainability. We offer options such as locally-sourced ingredients, biodegradable serving ware, and waste reduction measures, allowing you to contribute to a greener celebration.
At 971Catering, we're not just in the business of serving food;
we're in the business of creating enchanting experiences. Our answers to your questions reflect our dedication to providing the highest quality service for your wedding day. We understand the intricacies of wedding catering and have honed our expertise to ensure that your celebration is imbued with culinary magic.
When you choose 971Catering, you're choosing a partner that values your individuality and is passionate about translating your love story into flavors. Our expertise in wedding catering guarantees that every question is answered, every detail is attended to, and every bite is an exquisite memory in the making. Trust us to orchestrate a wedding dining experience that will be cherished by you and your guests forever.