VIP catering services
VIP Catering Services, the premier catering service specializing in VIP menus for high-profile events, personal gatherings,
and corporate meetings. Our commitment to excellence and attention to detail have earned us a
reputation as the go-to choice for those seeking an exceptional culinary experience. In this article,
we will delve into the essence of our VIP catering services, highlighting our offerings, expertise,
and why we stand out from the rest.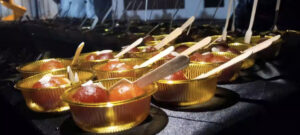 Unparalleled VIP Menu Selection:
At 971Catering, we understand that VIP events demand an extraordinary menu to match the occasion.
Our team of expert chefs crafts a diverse and indulgent selection of dishes, ranging from exquisite hors d'oeuvres
to mouthwatering main courses, and decadent desserts. Our VIP menus cater to all dietary preferences and include an array of international flavors to tantalize the taste buds of your esteemed guests.
Exquisite Presentation:
We believe that presentation is a vital aspect of the dining experience. Our culinary artists take
immense pride in creating visually stunning dishes that reflect the elegance and opulence of VIP events.
Each plate is meticulously arranged, ensuring that every detail aligns with the event's theme and ambiance.
Personalized VIP Catering Services:
No two events are the same, and we embrace this philosophy by offering personalized VIP catering services.
Our team works closely with clients to understand their preferences, requirements, and event vision.
Whether it's a grand gala, an intimate soiree, or a high-profile business conference, we tailor our services to exceed expectations.
Exceptional Service Staff:
Our highly trained and professional service staff are adept at providing impeccable hospitality to your esteemed guests.
From the initial greeting to the final farewell, our team ensures that every aspect of the dining experience is seamless,
allowing you to focus on hosting your VIP event with confidence and ease.
Attention to Dietary Restrictions:
At 971Catering, we recognize the importance of catering to various dietary restrictions.
We accommodate special requests for vegan, vegetarian, gluten-free, and other dietary preferences, ensuring that all guests feel valued and cared for throughout the event.
High-Quality Ingredients:
Our commitment to excellence extends beyond culinary creativity. We source only the freshest and
finest ingredients to craft our VIP menu items, maintaining the highest standards of quality and taste in every dish we serve.
Unmatched Professionalism:
With years of experience in the catering industry, 971Catering has honed its expertise in delivering seamless
and flawless VIP catering services. Our team handles every detail with precision, allowing you to
relax and enjoy the event as a guest while we take care of the rest.
On-Time Delivery:
We understand the significance of punctuality when it comes to hosting a VIP event.
Our team diligently ensures that the food is delivered and presented promptly, respecting your event's schedule
and maintaining the flow of the occasion.
VIP catering services : Venue Flexibility:
Whether your event takes place in a lavish ballroom, a stunning outdoor setting, or a corporate conference hall,
our VIP catering services are adaptable to any venue. We collaborate with event planners and venues
to optimize the dining experience, considering factors like kitchen facilities, guest seating, and logistical arrangements.
VIP catering services : Hygiene and Safety Measures:
In a post-pandemic world, we prioritize the health and safety of our clients and their guests.
Our catering services adhere to stringent hygiene standards, and we implement comprehensive safety
measures to ensure a secure dining environment for all attendees.
VIP catering services Frequently Asked Questions (FAQs):
Q1: How do I request a quote for your VIP catering services?
A: You can request a quote by visiting our website, where you will find a dedicated inquiry form.
Alternatively, you can contact our customer service team via phone or email, and they will be happy to assist you.
Q2: Can you accommodate last-minute requests for VIP catering?
A: We proudly provide VIP catering services to clients within our local area, as well as select regions.
Please contact us to check if your event location falls within our service range.
Q4: Can I schedule a tasting session before finalizing the menu for my VIP event?
A: Absolutely! We offer tasting sessions for clients who wish to sample our VIP menu offerings before making their final decisions. Contact us to arrange a tasting session at your convenience.
Q5: Are your VIP catering services suitable for intimate gatherings?
A: Yes, our VIP catering services are versatile and can be tailored to both large-scale events and intimate gatherings. Whether you're hosting a gala or an exclusive dinner party, we ensure the same level of excellence in every event we cater to.
Q6: Can you provide beverage services, including cocktails and premium wines?
A: Yes, we offer a wide range of beverage services, including handcrafted cocktails, premium wines, and champagne. Our skilled mixologists can craft signature cocktails to complement your event's theme and elevate the overall experience.
Q7: How far in advance should I book your VIP catering services for a corporate event?
A: To secure our VIP catering services for your corporate event, we recommend booking at least three to six months in advance. However, we understand that corporate schedules can be unpredictable, so contact us, and we'll do our best to accommodate your event.
Q8: Do you provide full-service catering for outdoor events?
A: Yes, our VIP catering services are fully adaptable to outdoor events. Our team is well-equipped to handle various challenges that may arise in open-air settings, ensuring a smooth and memorable experience for your guests.
Q9: Can I customize the VIP menu to include specific dishes of my choice?
A: Absolutely! We encourage clients to share their preferences and any specific dishes they'd like to include in the VIP menu. Our culinary team will work closely with you to curate a bespoke menu that aligns perfectly with your vision.
Q10: How do I know the final cost of your VIP catering services for my event?
A: The final cost of our VIP catering services depends on several factors, including the number of guests, menu selections, venue, and additional services required. Once we understand your event's details, we will provide you with a comprehensive and transparent quote.
VIP catering services Conclusion:
At 971Catering, we take pride in offering VIP catering that surpass expectations, ensuring that your events are truly unforgettable. With our diverse menu selections, exceptional service staff, and commitment to personalized experiences, we are your perfect partner for elevating VIP events to new heights. Contact us today to experience the epitome of culinary excellence and luxury hospitality for your upcoming VIP gathering, personal celebration, or corporate meeting. We are the best catering companies in dubai