Yacht party dubai
yacht party dubai Table of Contents: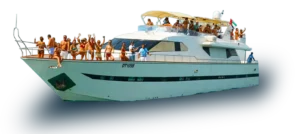 Introduction: Setting Sail for Unforgettable Yacht Parties in Dubai
The Allure of Yacht Party Dubai: A Fusion of Luxury and Scenic Beauty
Exquisite Catering: Elevating Your Yacht Party Experience
Unmatched Service: Crafting Memorable Moments
Frequently Asked Questions (FAQ)
Conclusion: Embark on a Spectacular Yacht Party Experience with 971 Catering

yacht party Dubai introduction:
Setting Sail for Unforgettable Yacht Parties in Dubai: When it comes to hosting an unforgettable celebration, a yacht party in Dubai offers a unique blend of luxury, breathtaking views, and an unparalleled experience. At 971 Catering, we specialize in providing exceptional catering services for yacht parties, ensuring that your event is a feast for the senses. Whether it's a birthday bash, anniversary celebration, or corporate gathering, let us take your yacht party to new heights of indulgence.
The Allure of Yacht Party Dubai:
A Fusion of Luxury and Scenic Beauty: Dubai is renowned for its stunning coastline, iconic skyline, and extravagant lifestyle. Hosting a yacht party in this vibrant city allows you to experience the best of both worlds: the opulence of a private yacht and the mesmerizing beauty of Dubai's waterfront. Picture yourself cruising along the Arabian Gulf, surrounded by crystal-clear waters and the dazzling cityscape, as you celebrate in style.
Exquisite Catering: Elevating Your Yacht Party Experience: At 971 Catering, we understand that exceptional cuisine plays a crucial role in creating a memorable yacht party. Our team of talented chefs is dedicated to curating a culinary journey that will tantalize your taste buds and impress your guests. We offer a diverse range of menu options, carefully crafted to suit various preferences and dietary requirements.
From delectable canapés and fresh seafood platters to gourmet entrées and decadent desserts, our culinary creations are made with the finest ingredients, ensuring an exquisite dining experience. Our attention to detail extends to the presentation of each dish, elevating the visual appeal and adding a touch of elegance to your yacht party.
Unmatched Service:
Crafting Memorable Moments: At 971 Catering, we pride ourselves on delivering impeccable service, tailored to exceed your expectations. Our team of professionals is committed to ensuring that every aspect of your yacht party is flawlessly executed. From the initial planning stages to the day of the event, we work closely with you to understand your vision and bring it to life.
Our dedicated event planners will assist you in selecting the perfect yacht, considering your guest count, desired amenities, and overall ambiance. We collaborate with trusted partners to provide additional services, such as entertainment, decoration, and floral arrangements, to create a truly immersive experience for you and your guests.
Throughout your yacht party, our attentive staff will be there to cater to your every need, ensuring that you and your guests are treated with the highest level of hospitality. From setting up the dining area and serving delectable dishes to coordinating beverage offerings and ensuring a smooth flow of service, we handle all the details, allowing you to relax and enjoy your celebration.
Frequently Asked Questions (FAQ):
Q1. Can you accommodate specific dietary restrictions and preferences for yacht party catering?
Absolutely! We understand the importance of catering to diverse dietary needs. Our culinary team is experienced in accommodating various dietary restrictions and can customize the menu accordingly.
Q2. Can you provide themed decorations and entertainment for yacht parties?
Certainly! We offer a range of options to enhance the ambiance of your yacht party. Our team can assist with themed decorations, lighting, music, and even arrange for live entertainment to create a memorable atmosphere.
Q3. Are there different yacht sizes available for hosting a party?
Yes, we have a diverse fleet of yachts available for hosting yacht parties of various sizes. Whether you're planning an intimate gathering or a large celebration, we can recommend the perfect yacht that meets your requirements.
Q4. Can you help with additional services such as photography or videography?
Absolutely! We understand the importance of capturing special moments. We can connect you with professional photographers or videographers who specialize in yacht events, ensuring that your precious memories are beautifully preserved.
Q5. Is it possible to customize the menu to match the theme of our yacht party?
Definitely! We love bringing creativity to our catering services. Our culinary team can work closely with you to design a menu that aligns with the theme and concept of your yacht party, creating a cohesive and unforgettable experience.