Birthday yacht rental Table of Contents:
Birthday yacht rental:
Introduction: Elevate Your Birthday Celebration on a Yacht
The Allure of Birthday Yacht Rental
Exquisite Catering: Delight Your Taste Buds
Unparalleled Service: Creating Unforgettable Birthday Experiences
Frequently Asked Questions (FAQ)
Conclusion: Embark on a Memorable Birthday Journey with 971 Catering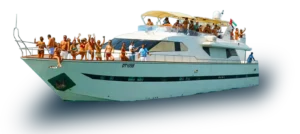 Birthday yacht rental Introduction:
Elevate Your Birthday Celebration on a Yacht: Your birthday is a special occasion that deserves to be celebrated in a truly remarkable way. Imagine cruising through the crystal-clear waters of Dubai, surrounded by your loved ones, on a luxurious yacht. At 971 Catering, we specialize in creating extraordinary birthday experiences, and our birthday yacht rental services offer a unique and unforgettable setting for your special day.
The Allure of Birthday Yacht Rental:
A birthday celebration on a yacht combines luxury, adventure, and breathtaking views into an experience like no other. Whether you're looking to host an intimate gathering or a grand party, a yacht provides an elegant and exclusive venue. With the sparkling waters as your backdrop and the cool sea breeze caressing your face, you can indulge in a birthday celebration that will be remembered for a lifetime.
Birthday yacht rental Exquisite Catering:
Delight Your Taste Buds: At 971 Catering, we believe that exceptional cuisine is the heart of any memorable celebration. Our team of expert chefs is passionate about creating culinary delights that will tantalize your taste buds. From delectable appetizers to sumptuous main courses and irresistible desserts, our menu options are designed to please even the most discerning palates.
We understand that every birthday is unique, and that's why our catering services are fully customizable. Whether you prefer a themed menu, a specific cuisine, or have dietary restrictions, our culinary team will work closely with you to create a personalized menu that perfectly complements your birthday celebration. With meticulous attention to detail and a commitment to using only the freshest ingredients, we ensure that every dish is a culinary masterpiece.
Unparalleled Service:
Creating Unforgettable Birthday Experiences: At 971 Catering, we go above and beyond to ensure that your birthday celebration is nothing short of extraordinary. Our team of professionals is dedicated to providing impeccable service from start to finish, allowing you to relax and enjoy your special day.
From the moment you step on board, our attentive staff will be there to cater to your every need. We take care of all the details, including setup, decoration, and table arrangements, to create a captivating ambiance that reflects your birthday theme and style. Our experienced servers will ensure that your guests are treated with warmth and hospitality, providing a seamless dining experience throughout the celebration.
Frequently Asked Questions (FAQ):
Q1. Can you accommodate dietary restrictions and special requests for birthday catering?
Absolutely! We understand the importance of catering to diverse dietary needs and preferences. Our culinary team is experienced in accommodating various dietary restrictions and can tailor the menu to suit your requirements.
Q2. Can you provide customized birthday cakes?
Yes, we offer exquisite customized birthday cakes as part of our catering services. Our skilled pastry chefs can create a stunning and delicious cake that perfectly captures the essence of your birthday celebration.
Q3. Can you assist with additional services such as entertainment or decorations for the yacht party?
While our primary focus is catering, we have a network of trusted partners who can assist with various aspects of your birthday celebration, including entertainment, decorations, and more. We would be delighted to connect you with these professionals to ensure a seamless and memorable experience.