Are you planning a special event in Dubai and looking for the best caterer to serve delicious food to your guests?
Look no further! Our catering services are sure to exceed your expectations.
We offer a range of catering services for various events and occasions. Whether you need home catering services, corporate catering, social events and parties, or food truck services, we have got you covered.
Home Catering Service:
If you're hosting a party at home but don't have time to cook, our home catering services are the perfect solution. Our expert chefs will prepare fresh and flavorful dishes that will leave your taste buds wanting more. From intimate gatherings to large parties, our home catering service can be tailored to your specific needs.
Corporate Catering Service: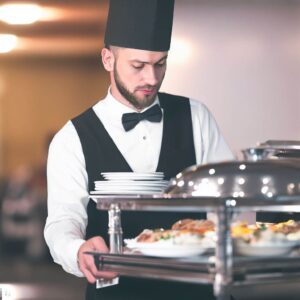 Impress your colleagues and clients with our corporate catering services. We understand the importance of providing high-quality food and service that meets the needs of your business. Our catering team will work with you to create a menu that reflects your brand and ensures a seamless experience for your guests.
Social Events & Parties:
Planning a special occasion such as a wedding, birthday, or anniversary party? Let us handle the catering so you can focus on enjoying the moment. We offer a variety of catering options that can be customized to meet your specific needs. From appetizers to entrees to desserts, our catering team will create a menu that will delight your guests.
Food Truck Services:
Looking for a unique catering option for your next event? Consider our food truck services! Our food trucks offer a range of delicious and fresh dishes that will leave your guests satisfied. Whether you want to serve street food or gourmet cuisine, our food truck services can be tailored to meet your needs.
In addition to our catering services, we also provide exceptional customer service. Our team of professionals is dedicated to ensuring that your event is a success. We take pride in our attention to detail and strive to exceed your expectations.
Moreover, our commitment to quality extends to our ingredients as well. We source our ingredients from the freshest and most reputable suppliers to ensure that our dishes are both flavorful and healthy. Our chefs use their expertise to create unique and exciting menus that will satisfy even the most discerning palate.
In conclusion, if you're looking for the best caterer in Dubai, look no further than our catering services. We offer a range of catering options for various events and occasions. Our team of professionals is dedicated to providing exceptional customer service, and our commitment to quality is reflected in our ingredients and menus. Contact us today to learn more about how we can make your event a success.