Bespoke Yacht Catering menu
Bespoke Yacht Catering menu: Elevate Your Yacht Excursions with 971 Catering in Dubai
Indulge in the ultimate luxury experience on the tranquil waters of the Arabian Gulf with
Bespoke Yacht Catering by 971 Catering. Picture yourself aboard a luxurious yacht,
surrounded by stunning vistas,
while savoring a delectable culinary journey tailored exclusively to your tastes.
At 971 Catering, we specialize in creating unforgettable dining experiences onboard yachts,
ensuring that every moment spent on the water is a truly extraordinary one.

In this blog article, we will delve into the world of Bespoke Yacht Catering, showcasing t
he exceptional services provided by 971 Catering. From our meticulous attention to detail and personalized
menus to our unwavering commitment to service excellence, we will highlight why we are the premier choice
for those seeking an unparalleled gastronomic experience during their yacht excursions in Dubai.
Get ready to embark on a culinary voyage like no other!

The Essence of Bespoke Yacht Catering
The Luxury of Yacht Excursions: Yacht excursions offer a unique blend of elegance, relaxation, and breathtaking scenery.
Whether it's a private celebration, a corporate event, or a romantic getaway, the allure of a yacht adventure is unmatched.
The Significance of Bespoke Yacht Catering: Catering plays a vital role in enhancing the yacht experience.
With Bespoke Yacht Catering, you can elevate your journey by immersing yourself in a culinary
world tailored precisely to your desires, creating unforgettable memories.
How 971 Catering Enhances the Yachting Experience: 971 Catering is committed to delivering exceptional
dining experiences on board luxury yachts. We go the extra mile to ensure seamless logistics, personalized menus, professional service, and a captivating ambiance, ensuring that your yacht excursion becomes a remarkable affair.
Unveiling 971 Catering: Our Story and Commitment to Excellence
A Legacy of Culinary Expertise: With years of culinary expertise, 971 Catering brings a wealth of
experience to yacht catering. Our team of skilled chefs combines their passion
for gastronomy with innovative techniques to create exquisite dishes that exceed expectations.
Unparalleled Service Standards: At 971 Catering, we understand the importance of exceptional service.
Our highly trained staff is dedicated to providing impeccable hospitality, ensuring that your yacht experience is nothing short of extraordinary.
Passion for Delivering Memorable Experiences: We are passionate about curating memorable experiences that surpass our clients' expectations. From the moment you step aboard the yacht until the final farewell,
we strive to create an atmosphere of luxury, indulgence, and sophistication.
Understanding Bespoke Yacht Catering
Customizing Menus for Unparalleled Culinary Delights: We believe that every yacht excursion should be a
gastronomic adventure. Our Bespoke Yacht Catering service allows you to customize your menu,
ensuring that each dish is tailored to your preferences and dietary requirements.
Considerations for Yacht Catering Logistics: Yacht catering presents unique logistical challenges.
Our experienced team meticulously plans every detail, from sourcing fresh ingredients to coordinating with the yacht crew,
to ensure a seamless dining experience.
Beverage Selections and Mixology Expertise: Complement your culinary journey with an exquisite selection of beverages.
Our mixology experts will craft signature cocktails, curate an impressive wine list, and provide a
range of non-alcoholic options to perfectly accompany your meal.
Professional Staff and Seamless Service: Our team of professional servers and
stewards are trained to deliver top-notch service. From setting up elegant table settings to
discreetly attending to your needs, our staff ensures that your yacht excursion is an experience of unrivaled luxury.
Creating the Perfect Ambiance Onboard: The ambiance onboard your yacht sets the tone for your dining experience.
We work closely with you to design the perfect atmosphere, incorporating elements such as lighting, decor, and music, to create a captivating and memorable setting.
Crafting Memorable Yacht Dining Experiences
Personalized Menu Planning: A Culinary Adventure: Our chefs will collaborate with you to create a menu that reflects your culinary preferences, taking into account your favorite flavors, dietary restrictions, and desired dining experience.
Together, we will embark on a culinary adventure tailored specifically to your tastes.
Exquisite Cuisine Tailored to Your Tastes: From sumptuous seafood platters to gourmet grilled specialties, our culinary
team is adept at creating an array of dishes that showcase the finest ingredients. Every bite is a harmonious blend of flavors, designed to delight your palate.
Imaginative Food Presentation and Styling: At 971 Catering, we believe that presentation is an integral part of the dining
experience. Our culinary artists take great care in visually stunning food presentations, ensuring that each dish is a feast for the eyes as well as the taste buds.
Specialty Dietary Accommodations: We understand the importance of catering to dietary restrictions and preferences. Whether you follow a specific diet, have food allergies, or adhere to religious dietary guidelines, our team will create delectable dishes that meet your requirements without compromising on taste or quality.
Captivating Theme-Based Yacht Catering: Elevate your yacht experience with a themed catering concept. From elegant black-tie affairs to tropical beach-inspired soirees, our team can create a captivating ambiance that complements your chosen theme, ensuring an immersive and unforgettable experience.
Elevating Yacht Excursions with 971 Catering: Client Testimonials
Firsthand Accounts of Unforgettable Yacht Dining: Read testimonials from our satisfied clients who have experienced the exceptional dining provided by 971 Catering. Discover how our bespoke menus, impeccable service, and attention to detail have transformed their yacht excursions into unforgettable moments.
Client Success Stories and Memorable Moments: Explore the success stories of previous clients who have entrusted us with their yacht catering needs. From romantic anniversary dinners to corporate celebrations, these stories exemplify the unparalleled experiences we strive to create.
The Booking Process: Experiencing Bespoke Yacht Catering
Consultation and Understanding Your Vision: Our team will schedule a consultation to understand your vision, preferences, and specific requirements for your yacht excursion. We will work closely with you to create a customized catering package that aligns with your desires.
Tailoring the Perfect Menu for Your Yacht Excursion: Collaborate with our culinary experts to curate a menu that reflects your tastes and culinary preferences. From selecting fresh seafood to designing multi-course meals, we will ensure that each dish is a masterpiece.
Logistics and Planning for a Seamless Experience: Our dedicated team will handle all the logistics, from coordinating with the yacht crew to sourcing ingredients and equipment. We will work closely with you and the yacht charter company to ensure a seamless dining experience.
Day-of Execution and Professional Yacht Staff: On the day of your yacht excursion, our professional staff will be onboard to set up the dining area, serve your personalized menu, and provide attentive service throughout the journey. Sit back, relax, and immerse yourself in the luxury experience.
Post-Cruise Feedback and Follow-Up: After your yacht excursion, we value your feedback. We will follow up to ensure your satisfaction and to further improve our services. Your input is vital in helping us continually enhance our Bespoke Yacht Catering offerings.
Frequently Asked Questions about Bespoke Yacht Catering
What is Bespoke Yacht Catering? Bespoke Yacht Catering is a personalized culinary service that caters to the unique preferences and requirements of clients on luxury yacht excursions. It involves customizing menus, ensuring seamless logistics, and delivering exceptional dining experiences.
How is the menu customized for each yacht excursion? Our culinary team works closely with clients to create customized menus that reflect their tastes, dietary preferences, and desired dining experience. We consider factors such as fresh seasonal ingredients, regional specialties, and cultural influences to tailor each menu.
Can you accommodate dietary restrictions and preferences? Absolutely. We understand the importance of catering to dietary restrictions, allergies, and preferences. Our culinary team is experienced in accommodating various dietary requirements, ensuring that each guest enjoys a memorable dining experience.
What is the pricing structure for Bespoke Yacht Catering? The pricing structure for Bespoke Yacht Catering depends on several factors, including the number of guests, menu selections, yacht specifications, and additional services requested. We will provide you with a customized proposal based on your specific requirements.
How do you ensure a seamless experience while onboard? Our experienced team meticulously plans every aspect of the yacht catering experience, from menu creation to logistics and execution. We collaborate closely with the yacht crew to ensure seamless coordination, allowing you to enjoy a flawless dining experience.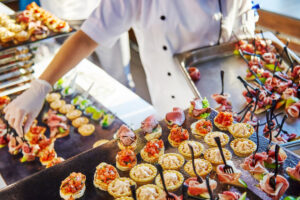 Conclusion :
Bespoke Yacht Catering by 971 Catering offers an unparalleled culinary journey that complements the luxury and beauty of yacht excursions in Dubai. With our commitment to exceptional service, personalized menus, and attention to detail, we create memorable experiences that exceed expectations. From customizing menus to accommodate dietary preferences to crafting captivating themes and stunning food presentations, our dedicated team ensures that every moment spent onboard is a celebration of luxury and indulgence.
Immerse yourself in the world of Bespoke Yacht Catering with 971 Catering and discover the art of refined dining on the open seas. Contact us today to discuss your yacht catering needs and let us create an extraordinary culinary experience that will elevate your yacht excursion to new heights of luxury and delight. Also check our small party catering services