5 star catering service in Dubai
Want 5 star catering service in Dubai for your event? Look here! 971catering ! We've got a fab menu and staff that'll make sure your guests feel like royalty.
Delicious hors d'oeuvres, generous entrees – our team will make sure your event is unforgettable.
Hire the 5 star catering service in Dubai

Ready to experience true luxury catering in Dubai? 971catering.ae will leave you and your guests amazed.
Culinary artistry: Every dish is a masterpiece of flavor.
Personalized service: Our team will tailor the menu, decor and more for your event.
Impressive presentation: Heaping servings that look as good as they taste.
Plus, we have specialty chefs for vegan, gluten-free and ethnic food needs. Don't miss out! Book with us now and make your event unforgettable. Reserve today!
Best 5 star catering company

Catering companies providing 5-star services hold a reputable position. They excel in delivering exceptional dining experiences.
Top-notch quality: Best-in-class catering companies provide unparalleled quality in terms of food presentation, ingredients, and customer service.
Unique menus: Experienced chefs craft innovative and diverse menus, to cater to different tastes.
Timely services: The best 5-star catering services deliver on time, without compromising on quality or taste.
Wide range of events: These catering companies offer end-to-end solutions for weddings or corporate events.
Customization: They allow customization of menu and services as per individual preferences.
Strict hygiene protocols, innovation with traditional flavors, and optimal hygiene levels make them stand out from others.
Forbes Magazine states that a good catering company offering quality food can help create a successful event. If food is the language of love, then the best 5-star catering company in Dubai speaks gourmet fluently.
The best 5 stars catering company in Dubai
Discover Dubai's Finest 5 Star Catering Gem!
There's no need to search further for the perfect catering company in Dubai. This five-star gem has won the trust of clients with its spectacular cuisine, personalised menus and premium service.
Here are five reasons to make this caterer your go-to for any gathering:
Tailor-made menus – From international dishes to local delights, customised menus suit every palate.
Outstanding presentation – Amazing plating and tablescapes transform even the simplest dish into an unforgettable experience.
Flawless service – On top of delicious food, the caterer's staff ensure guests are taken care of from start to finish.
Attention to detail – From worldwide ingredients to dietary requirements, nothing is overlooked.
Unrivalled quality – With years of experience serving Dubai's elite, this caterer only brings the highest calibre of culinary excellence.
Plus, enjoy unique details such as locally sourced ingredients and sustainable practices that show commitment to taste and community.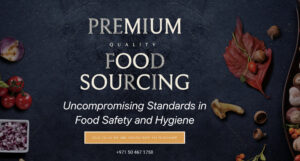 Book today to guarantee guests will love every moment with exquisite cuisine that delights all five senses. Don't miss out on upgrading your next event with Dubai's leading 5 star catering company.
Frequently Asked Questions
What types of events does 971catering service cater to?
971catering caters to a variety of events including weddings, corporate events, private parties, and social gatherings.
Does 971cateringoffer custom menus?
Yes, 971catering offers custom menus tailored to the client's preferences and dietary restrictions.
What type of cuisine does 971catering offer?
971catering offers a diverse range of cuisine including Italian, Mexican, Asian, and Mediterranean cuisines, among others.
Can 971catering provide waitstaff and bartenders for events?
Yes, 971catering can provide professional waitstaff and bartenders for events to ensure seamless service.
Can 971catering accommodate last-minute orders?
971catering can accommodate last-minute orders depending on availability and event size.
What is the pricing for9 71catering the 5 star catering services?
The pricing for 971catering The 5 star catering services varies based on the menu, event size, and location. Please contact us for a personalized quote.
1. What distinguishes a 5-star catering service from others?
Answer: A 5-star catering service sets itself apart through impeccable attention to detail, exceptional culinary offerings, highly trained staff, and a commitment to delivering a flawless and luxurious dining experience for clients.
2. How does a 5-star catering  accommodate specific dietary requirements or preferences?
Answer: A top-tier catering service prides itself on customization. Clients can work closely with the chef to create bespoke menus that not only meet but exceed expectations, considering dietary restrictions, allergies, and individual taste preferences.
3. What level of service can I expect from a 5-star catering team during my event?
Answer: A 5-star catering team provides a seamless and sophisticated service. From professional and attentive staff to exquisite table settings, they ensure that every aspect of your event reflects the highest standards of hospitality, creating a memorable and enjoyable experience for guests.
4. How is the presentation of food handled by a 5-star  service?
Answer: Presentation is a key element of a 5-star catering service. Expect artfully arranged dishes, elegant plating, and creative displays that not only delight the palate but also engage the senses, contributing to the overall ambiance of the event.
5. What is the process for collaborating with a 5-star catering  to design a menu for my event?
Answer: The collaboration process with a 5-star catering service typically involves consultations with experienced chefs. Clients have the opportunity to discuss their vision, preferences, and any specific culinary requirements, allowing the catering team to tailor a menu that aligns perfectly with the event's theme and atmosphere.
| No. | Food Type | Origin |
| --- | --- | --- |
| 1 | Foie Gras | France |
| 2 | Caviar | Russia/Iran |
| 3 | Truffles | Italy/France |
| 4 | Wagyu Beef | Japan |
| 5 | Saffron Risotto | Italy |
| 6 | Lobster Thermidor | France |
| 7 | Peking Duck | China |
| 8 | Oysters Rockefeller | United States |
| 9 | Tiramisu | Italy |
| 10 | Ceviche | Peru |
5-star Services
5-star catering provides a pinnacle of culinary excellence and service, offering a sophisticated and memorable dining experience. Distinguished by meticulous attention to detail, personalized menu customization, and the inclusion of premium ingredients such as foie gras, caviar, and Wagyu beef, these services elevate events with gourmet dishes inspired by international cuisines. The presentation is artful, incorporating culinary classics like truffles and Peking Duck. Collaborative consultations ensure a seamless fusion of client preferences and the culinary expertise synonymous with 5-star catering.
Check our 5 star catering service at 971catering , your best catering service in Dubai and UAE .
Contact us today via whatsapp or email , our pro team is waiting for you ,